T-Force Analytics is a pilot web-based decision management application that allows commercial motor vehicle (CMV) law enforcement and state drivers licensing agencies (SDLAS) to query and visualize CMV crashes and inspections for Massachusetts, Maryland, Virginia and West Virginia. It was initially developed by the University of Massachusetts Traffic Safety Research Program (UMassSafe) from a Federal Motor Carrier Safety Administration (FMCSA) High Priority grant, in order to assist the FMCSA with its mission of reducing the number of crashes and associated fatalities involving large trucks and buses. Composed of multiple dashboards that enable users to query and visualize CMV crashes relative to multiple selectable factors (including region, over time, severity, top carriers, and much more), T-Force Analytics assists users in identifying problem areas, conducting CMV enforcement, and monitoring commercial drivers' license (CDL) safety activities.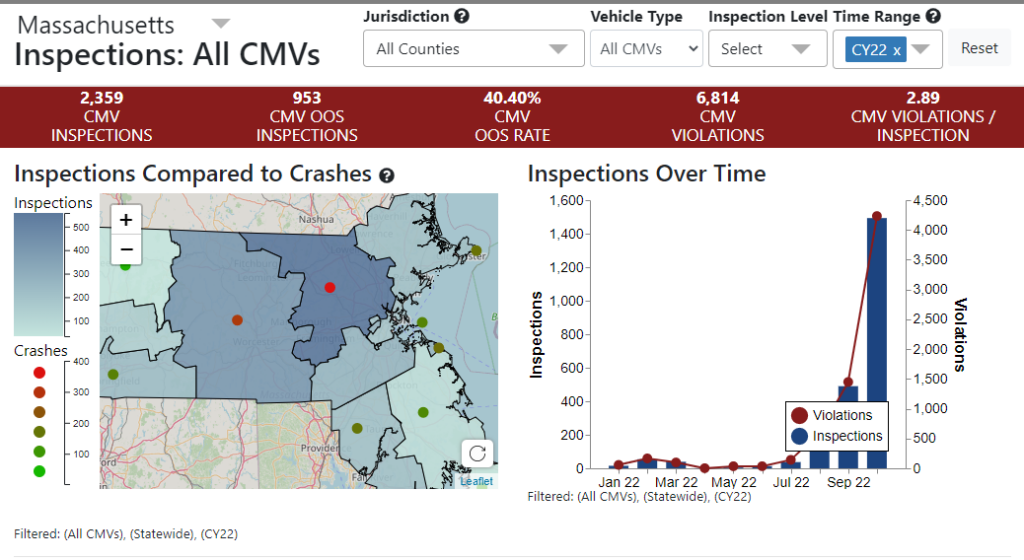 For example, when writing the yearly Commercial Vehicle Safety Plan, Truck Team Commanders can examine details such as the carriers with most violations per inspection, crash counts by state police barrack, the cargo body types involved in crashes to inform future planning. Additionally, they can look at the inspection rates for each individual state trooper. Furthermore, when planning enforcement details, Commanders can query and map various types of crashes, such as those that involved alcohol or those that involved a rollover. 
With additional grant funds, UMassSafe is in the process of expanding T-Force Analytics. This expansion will include web-based decision support technologies with five years of crash and inspection data for all 15 states/territories within the Eastern Service Center region. Furthermore, additional dashboard elements (filter, chart, table, hot topic, map, etc.) will be incorporated, as well as a print/save function. Training and technical support for users from all 15 ESC states/territories provided. Additionally, outreach, webinars and demonstrations to national or other service centers within the 15 ESC states will be conducted for potential implementation.